OET is the world's only international English language test specifically for healthcare professionals. The test provides a valid and reliable assessment of the four language skills – listening, reading, writing and speaking, with strong emphasis on communication in healthcare settings.
ELC offers OET preparation and testing at our Bukit Bintang city campus.  Click here to register for the OET exam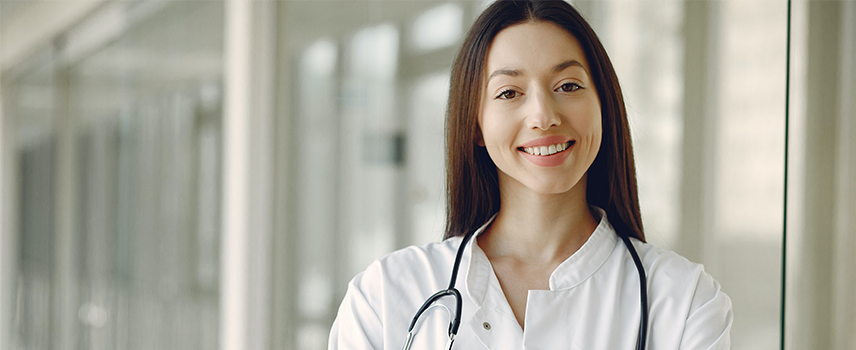 Why choose OET ?
By taking the OET you can prove that you have the right level of English for employment in an English-speaking medical setting. Plus, in preparing for the test,  you'll  will enhance the lifelong clinical communication skills you need for a more successful medical career.
That's not all –
Healthcare professionals choose the OET because:
OET features realistic and familiar healthcare scenarios, so you'll feel more at home on test day.
OET is widely recognised by a growing number of countries worldwide, as proof of English proficiency for registration, study and work in the healthcare sector. It can also help you to obtain visas for some countries.
The Course
The OET Preparation Course combines a thorough program of language study with preparation for the demands of. the OET exam. Classes will focus on each section of the OET in detail,  teaching you the test formats, assessment criteria, and test-taking strategies you will need to succeed
The program includes the following elements; all of which will be aligned to medical  scenarios:-
General English ability assessment and essential English grammar and vocabulary required by professionals.
Language extension activities aligned with healthcare the workplace.
The use of colloquial and idiomatic English communication specific to a variety of medical settings.
Exercises in Speaking, Listening, Reading and Writing in the OET context.
Full guidance on how to approach the OET, with additional tips and strategies for success on exam day.Mock tests to check your test readiness, with detailed feedback on each of the sub-tests.
Course types
Premium 1-2-1 Private Class
One-to-One lessons allow students to study intensively while receiving individual input matched to their needs, and focussing on areas requiring improvement. With immediate feedback from our trainer, candidates acquire readiness for all four OET sub-tests, in the shortest time.
Learn online at your own pace
Take classes with a qualified ELC teacher
Study from the comfort of your home or at our campus
Learning one-to-one focusses on your needs and maximizes your progress.
Mini Groups
Get together with your colleagues or friends in a group of 2 - 4 people. We can create a mini class for you, based on your available schedule. In this way you can share the tuition fees and learn faster, through interactions with your colleagues. You learn from each other and can practice, revise, and perform mock speaking exercises, at your leisure.
5-hour OET Introductory Workshop
This workshop is suitable for those who want to acquire a quick understanding of the OET exam and its sub-test formats
By attending our workshop, you will be able to:
compare the OET with alternative tests and decide which is more relevant to you.
get an overview of OET Exam and the Listening, Reading, Writing and Reading sub-tests.
understand the OET assessment format and scoring guides.
plan and develop a learning pathway to your OET goal.
pick up some exam tips to polish your OET performance.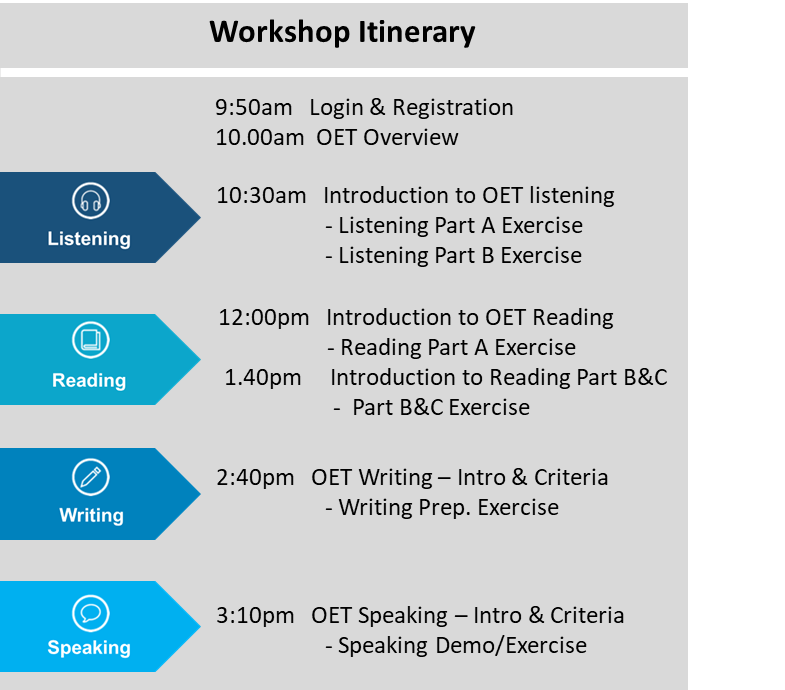 See the feedback from candidates who attended our virtual OET workshop on 12 December 2021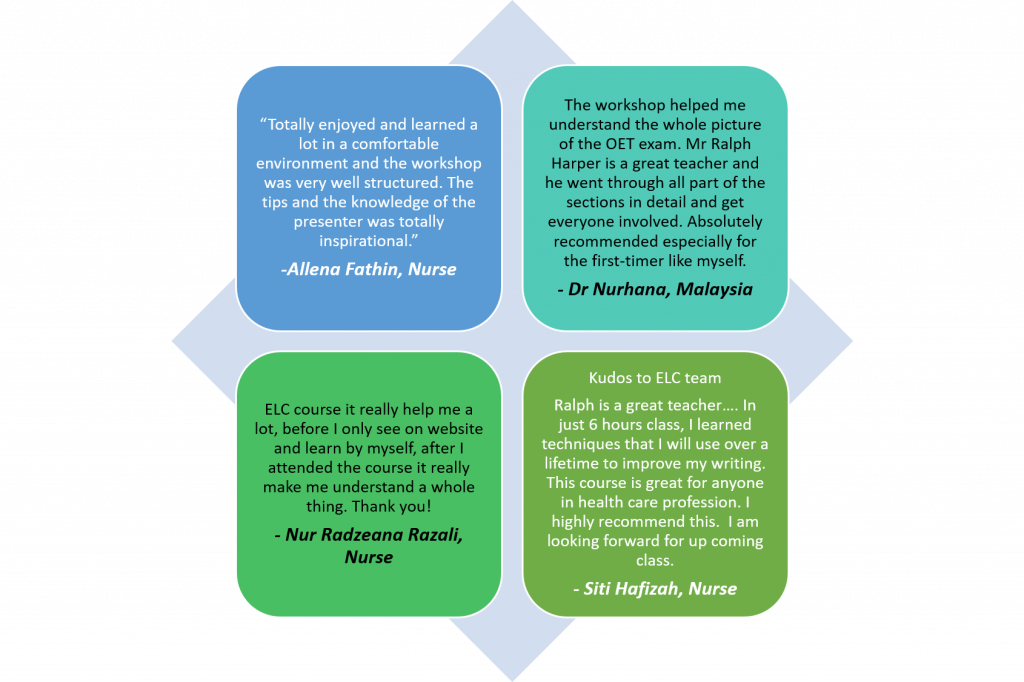 3 hour OET Sub-test Workshops for Speaking, Listening, Reading and Writing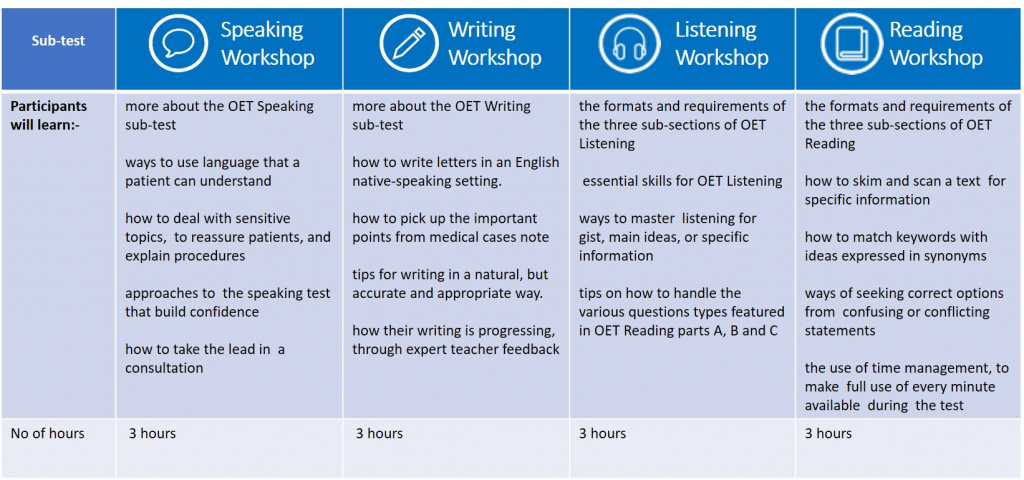 09.50 am - Login & Registration
10.00 am - Welcome
10.10 am - The role of writing in the OET
10.20 am - The Writing Sub-test Format & Criteria
10.30 am - Break 
10.40 am - Essential and Useful English for OET Writing  
11.15 am - Writing Preparation Walkthrough    
11.55 am - Break
12.00 pm - Writing Mock Test Exercise with Feedback
01.00 pm - End of workshop