Our Summer Camp program normally runs from the start of June until the end of August every year and is designed for students aged 8-16. Our Summer Program features English language lessons, our unique Global Citizen Program and Young Leader classes as well as sight-seeing trips around Kuala Lumpur.
Levels

Beginner – Upper Intermediate

Course Length
2 – 4 weeks
Start Dates
Summer Program: Any Monday between start of June – end of August
Winter Program: Any Monday between start of January – end of February
Class Size
Maximum 20 (average 12)
Why ELC's Junior Program?
Perfect location, just minutes away from Kuala Lumpur's main attractions in the city centre
Students will learn English while site-seeing in Malaysia
Top quality award-winning school with excellent teachers
Students will improve their confidence, fluency and accuracy in English in a very short time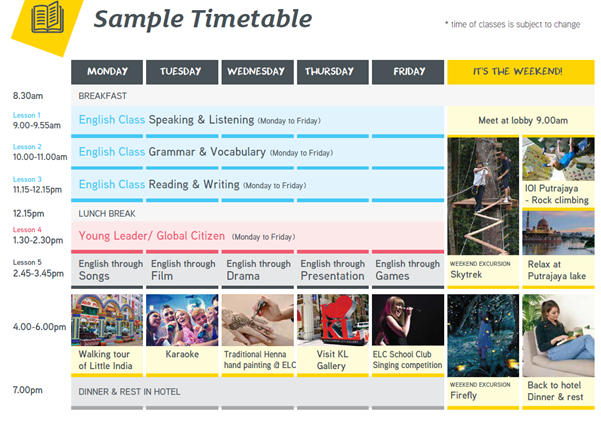 (Insert video of summer camp here)
---
Testimonials from Summer Camp
In the class, they have many activities. I like games, it's funny and also can improved my English. In ELC I have so many friends such as Japan, Arabic, Thai. ELC is convenient and comfortable. It is in the city centre. We can walk around and it's easy for us to go everywhere like shopping.
I was worry about how to go and how to communicate because I came here alone, but I was surprised how easily I integrated.
By just looking at the streets of KL, you definitely can feel the magic of the city. Kuala Lumpur is the place where palms and skyscrapers, different cultures, past and modern exist side by side in harmony. Our teachers become more like our good friends, besides studying English, we were learning a lot about each other's culture. And cultural exchange happened not only with teachers, but with other students as well: Saudi Arabia, South Korea, Indonesia, Russia, Laos, Japan and Algeria. People from all over the world meet and become friends at ELC. Studying wasn't easy, but it was fun and I enjoyed it. Trip to KL, studying at ELC, everything became an unforgettable experience, reasons to come back here again. People whom I met during my journey are reminders, creators of sweet memories.
Adiya Kapanova – Kazakhstan
It was my first experience being in Malaysia and I exactly can say that it was one of the best vacations in my life. In this short month, we get a lot of positive emotions, and gain new educational skills. Our marvellous teachers taught us how to develop our leader's qualities and how to work as a team. Moreover, we understand all these materials that was complicated to catch in our school. Another thing that I want to mention is that ELC school it is always kind and cheerful staff, that every time ready to help you.
In common, I was quite keen on about Malaysia, so it was pretty interesting to see this country with your own eyes: Petronas tower, Putrajaya, infinite amount of malls...Furthermore, these social activities help me to meet new fascinating people, who I will never forget.
To cut a long story short, I want to say a huge thanks to Malaysia and especially to ELC school. I hope to come again.
Golf Camp With our partner, Saujana Impian Golf Club, we are happy to offer a unique Golf + English course. During the day, students study English at the beautiful Saujana Impian Golf Club, which is in a 142-acre tropical rainforest. After class, students take swimming, tennis and golf lessons from suitably trained staff members. Students will also get the chance to attend classes at an international school in Kuala Lumpur.